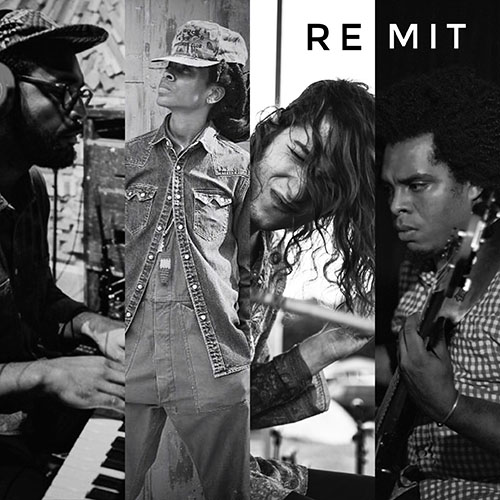 remit is a NY-based ensemble that, through the language of collective improvisation, builds unique, ethereal, rhythmically-charged, episodic music. drawing from concepts derived from jazz, blues, hip-hop, folk, electronic, and trans-African musical idioms, they alchemize those stylistic influences into musical remittances, dispatching them back to their sources. remit's performance are flexible; with faint structural outlines, and plenty of room to embark on unforeseen musical paths, the moment dictates their musical course of action. experience their sound; explore music that is experimental and grounded; referential and reverential.
personnel
kwami coleman: electric piano and synthesizers
gaia earthpeace: emcee
rashaan carter: electric bass
russell holzman: drums
In addition to their performance at Black Portraitures III Conference on Thursday, 17 November, remit will also be performing on subsequent days at:
Nov. 18th — Afrikan Freedom Station (Johannesburg) – 8pm — http://afrikanfreedomstation.withtank.com/
Nov. 19th — RE: Capitoli Festival (Pretoria) – Late afternoon/evening TBA — https://www.facebook.com/recapitoli/
remit was founded by pianist, keyboardist, and composer kwami coleman in 2016. kwami is a pianist, composer, and musicologist from harlem, nyc, and has worked with various musical ensembles—ranging from concert music, to jazz, to hip-hop, to the more experimental—for ten years. his debut album, local music, will be independently released on 15 Dec. 2016, and features vicente archer (bass), marcus gilmore (drums), and field recordings of people and sounds from his home community.
artists' statement
remittances, in the context of migration and diaspora, are material and financial gifts dispatched by the resettled migrant to their family back home.